It is currently 1 a.m. in New York and I just finished binge watching 'Riverdale'. And before you ask, no I didn't watch the whole season in one sitting but I wish I did.
Like any other television consumer I was skeptical of a new show and what was the hype surrounding this so called 'Riverdale'. What story could possibly be told about teens in a small town. I mean I watch all the shows surrounding teens in small towns, 'Teen Wolf', 'Pretty Little Liars', and the 'Vampire Diaries', which are conveniently all ending in 2017. What makes 'Riverdale' so different?
Well, I'd like to make a formal apology to the writers, producers, or anyone that has anything to do with the show for having any doubt of the show's quality. As soon as I hit play I was hooked in the first 5 minutes.
via Tumblr: mrs-jughead-jones.tumblr.com
'Riverdale' isn't about a bunch of random teenagers dealing with the typical dramas of high school. It's how a murder brings these four teens together. In a town thats dealing with an open investigation and the secrets that lie behind it, Archie, Betty Veronica and Jughead take it upon themselves to do what their town can't, find the truth.
Now before I go on any further this is where I would advise all readers to stop if you haven't finished season 1. I'm definitely exposing some major spoilers because I got questions and theories that are making my head spin and I don't want to be guilty of a spoiler. So if you kindly direct yourself to the nearest exit and once you have finished I welcome you with open arms.
I have made my spoiler alert disclaimer so now anything is up for discussion and I'm jumping right in by starting with the season finale.
Right from episode 1 my list of suspects were through the roof. Even Archie was on my list I mean come on all american boy commits murder, I know it definitely crossed some people's minds? no? Ok well then who did you think killed Jason?
For the longest time my money was on the Coopers. With a family with so much to hide they definitely benefited from Jason being dead. So you could imagine my face when they revealed who was on the video. I mean what father could kill their own son and then frame someone else. AND WHATS WITH ALL THE COCAINE? AND IS THERE COCAINE IN THE MAPLE SYRUP? Questions I know I'll get at least one answer to hopefully in season two.
Which leads me to Cheryl Blossom the ice queen of 'Riverdale' with a heart gold that every so often we can't help to feel for her. Some how we can all relate to having family secrets unravel themselves right before our eyes. For Cheryl its the final straw to know her own father killed her twin.
via Tumblr: riverdalesource.tumblr.com
Am I excited the show decided to make Cheryl resort to suicide? Eh, not really. I mean the whole season we see Cheryl as someone that is hurting but can somehow still be that strong independent woman we love to hate. So why have this strong female character crumble so fast? From a show's perspective this leaves the question will Cheryl recover or get the help she needs to move on? Will her and Veronica maybe stop getting at each other's throats? Again season two has a lot to work with and I am a little too eager right now.
I just want to Cheryl take back her Vixens and be her usual bad ass self. But now that her brother and father are dead the future of her family rest on her shoulders. Can she handle the pressure? I'll say yes, Cheryl just needs positive figures in her life, and maybe if we get that blossoming (no pun intended) friendship between her and Veronica, Cheryl can pull herself together.
I am only going to say this once, I am 200 percent here for Jughead and Betty. And if this GIF right here doesn't convince you that they are perfect for each other, then you may not have a heart. In a time that is surrounded by negativity these two somehow create such a positive and loving relationship that I'm ready to ship into crystal blue waters.
via: riverdale.wikia.com/wiki/Betty_and_Jughead
Now before I go any further I need to address that love confession by Jughead Jones. Was I expecting Jughead to say it first NO, but was I ready for it? ABSOLUTELY. How could I not root for the power couple of Riverdale.
via Tumblr: leaalda.tumblr.com/
We obviously knew Betty loved Jughead in that beautiful confession made to her mother. But of course as soon as we get through the "I love you's" the Southside Serpents come knocking, literally. Does Jughead really want to follow in his father's footsteps? I mean I get the appeal, Jughead finally feels like he belongs, and has a family but he needs to keep in mind Betty is his family too. As of right now I am team Jughead and Betty and if he hurts her in the process I'm ready to square up.
Which this is completely off topic but are we ever going to see Jughead's mother and sister? Don't they care FP is in jail or are they just going to chill in Ohio like nothing is going on?
Anyway I guess my final point brings me to Archie.
via Tumblr: iaminlovewithfood.tumblr.com
Oh sweet Archie, he could never do any wrong in my eyes except when he hurt Betty that one time, which made me want to punch him but thats old news. Archie has decided to go steady with Veronica but I know I'm not the only one that finds this a little off putting? I mean of course Archie and Veronica would hook up it was inevitable but are they soulmate material? I'd like to just put it out there, Archie has definitely started to either develop feelings for Betty or always wanted to be the person that is there for her. However, now that she has Jughead she doesn't really need Archie anymore.
I am in no way buying that speech Archie gave to Veronica before he performed with Josie and the Pussycats. If we learned one thing about Archie this season is that he sucks at relationships. At this point in the game he is just settling for Veronica. It is convenient for the plot to have them together but I give this relationship two solid episodes in season two before it starts to sink. If you ship Archie and Veronica I beg of you tell me why because I see no connection between these two characters except for their friendship with Betty.
Before anyone jumps to any conclusions, I love Veronica as a character.
via Tumblr: archiesabs.tumblr.com
She established herself as a confident individual that doesn't need to depend on anyone since day one. I especially loved her development throughout the season when it comes to caring for Betty and learning how her father's actions affected other families. This is why I'm so against Veronica and Archie, I want someone that can challenge Veronica. Archie is a comfortable choice, a choice that would of never happened if they never played seven minutes in heaven.
As if this post could be any longer, I like to state a couple other questions I demand answers to when season two rolls around:
Will Jughead's father get justice? (I'm rooting for you FP)
Is Veronica's father really going to throw a temper tantrum because Fred didn't take the deal? (you just got out of jail why don't you chill out and have a milk shake)
UM WILL FRED LIVE? (I'm currently on IMDb and it states Luke Perry is in 26 episodes so we can assume Fred is alive and well) P.S. Was I the only one about to lose it if Pop was shot?
How will Betty take Jughead becoming a Seaside Serpent if he accepts? Yes, he put on that rad leather jacket but this doesn't necessarily mean he accepted the offer.
Where is Cheryl going to live? I know she wanted a clean start but maybe a splash of color on the walls could of sufficed.
The biggest of all questions why did Clifford Blossom kill his son?
It's a huge question with a lot of possible answers, I'll leave you all with this one because by now its 2 a.m. and my brain is on a 'Riverdale' high.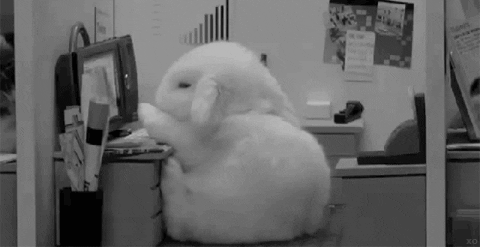 via Giphy
Enjoyed what you read? Comment below and tell me what you want from season two.
Disagree with my thoughts? Also comment below and tell me what you think, I love a good theory.